Tsem Rinpoche in an American 'Tantric Dress'!!!
I was around 18 years old when this picture was taken..in courtyard of Fenmore Apts on Sunset Blvd in 1983 where I lived in a studio apt.
I had left New Jersey, hitchiked across to California. Living in a small studio Apt on the famous Sunset Strip or Sunset Blvd in West Hollywood. I could walk to Hollywoold Blvd where the Walk of the Stars was in 25mins flat from my apt. I was in the heart of 'it' all.
I was on my own, working at Fotomat in a kiosk (photo below). Those little one-man photo kiosks on Sunset Blvd making barely enough money to survive. Making friends with rock band lead singers wannabes, porno stars, prostitutes, agents, small time actors, and models who walked the sunset strip to come to Fotomat to develop their film.
There was the guy in a rock band, with long curly hair, hanged over, smoking a cigarette and wearing neat red boots staggering down to my little shop to develop film. He talked about rock and roll gigs on the strip he was singing at nites to earn a living, booze, drugs parties, the women and hangovers and hung out at my shop once in a while. He looked cool in his dark glasses staggering to develop film or just hang out…he had the usual morning hangovers.
I liked his whole rock look and the red boots. He said he got it at Fred Segal's on Melrose Ave for around US80!! On my next paycheck, I ran down to Melrose got myself a pair of the same red boots (they had my size!!! thank god i thought at the time!!), wore an earring and went to work at Fotomat to meet my rock hero. Hehe. He was too hung over to be impressed with my boots that looked like his, but i thought it was neat! But he did say my boots looked like his…i was like yeah they do don't they, can I get in your band????? And be the lead singer??
My paycheck was like US$120 a week and I blew $80 on boots and starved that week BUT HEY, I THOUGHT I LOOKED COOL. That is why that time my waist was 29inches and inseam 34 inches. Now I'm like 44 inches with 34 inseam!! hehe.
When Geshe-la at the centre saw me in the boots, as you see me in this picture, he took a double take and didn't say a thing and I just gulped…..
I wore those red boots for a year then painted them black with suede coloring and it lasted me another year! Then I was over the boot thingy.
I like the way Billy idol, Adam Ant and Punk Rockers looked that time…so I thought I'd dress like them. Hehe..I didn't like the way Boy George looked but thought he had guts to be himself.
After work, took a bus down sunset home, when I came home to my apt, I would have one or two ppl hanging and playing Sylvester and they'd be smoking and I'd be doing my sadhana and prostrations. I did 100 a day. No matter how weird I looked, the dharma was in me! My friends thought I was super religious zealout freak and I didn't care. Imagine doing your Vajra Yogini long sadhana with your friends in the same room singing to Syvester's 'You Make Me Feel, Mighty Real'?? But I could concentrate.
If you look real closely around my neck is a blessed red string THAT I GOT FROM HIS HOLINESS THE DALAI LAMA IN NEW JERSEY before I ran away to California. I wore that string everyday until it fell apart!! I totally believe in and loved HH Dalai Lama. My friends didn't know who he was.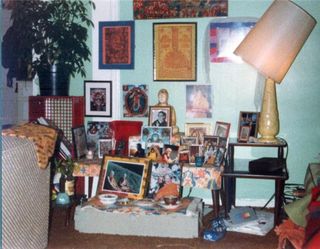 This was my altar in my studio apt of Fenmore Apts. I didn't have money to buy statues, but I had alot of framed pics of high Lamas, yidams, Buddhas and Bodhisattvas. I had pics of HH Dalai Lama, Trijang Rinpoche, Ling Rinpoche, Kensur Lobsang Tharchin, Geshe Tsultrim Gyeltsen, Tsongkapa, Zong Rinpoche, etc. Behind Dalai lama's black and white photo, I have a great clay Shakyamuni I bought for US$5.00 because it was a second hand shop and He was used as a doorstop! So brought Him back, washed and cleaned Him and placed on my altar.I loved that Statue very much. Wonder what happened to Him, cos I left it with a student of Thubten Dhargye Ling's when I left California in 1987 forever.I would do my 100 prostrations a day and sadhanas in front of this altar. On the right was my single mattress bed on the floor with a reddish-blue blanket from a 2nd hand shop.
I worked in a Fotomat Kiosk in a parking lot on Sunset Blvd in 1983-84 time. It looked just like this except the one I was in had a bluish room. People would drive in from up from both sides to drop off film to be developed and come a few days later to pick up the pictures. A van would come daily to pick up all the negatives for developing and finished pictures.
When I worked in Fotomat, I was asked hundreds of times if I was Chinese, Japanese, Half-White/Half Asian, Mexican, Jewish (?), Italian and even if I was Polish???? I was like Polish? But they asked.
In the evenings walking across my kiosk were many prostitutes who stopped by to chat. And you know, they were really nice ppl who were down and out. Nobody liked being a prostitute. I felt so bad for them. And glad I had this Fotomat job, because I was asked to be a male prostitute many times.
During the day in the kiosk there were times there wasn't even one customer for hours…so I would happily do my long sadhana of Vajra Yogini and Heruka and many mantras. I was like doing this in the Fotomat shop almost everyday because I had alot of Sadhanas and mantras to do. I liked it too.
In the evenings at Fotomat I would get robbed at least once a week. They'd walk up with a gun, tell me to put the money in a Fotomat envelope, pass it to them and then sit on the floor. Sitting on the floor wasn't easy because I am 6'2″inches and the kiosk was tiny. Then after they left, I called the cops and they were like yeah, yeah, I know..it's you again from Fotomat. They were bored and I was bored. I got their reports weekly to submit to my manager so Fotomat can claim insurance. The cops never did anything. No one got caught or hurt. After a while, I'd know when he'd be coming and see him walking up with a cover on his face, and I'd get the money ready, pass it to him and sit on the floor and ask 'how's the kids'!! It was ridiculous, but it was real robberies. Sounds like a sitcom or something or some 'Saturday Night Live' spoof, but that is what happened for weeks.
This was me in the Fotomat Shop snapped by a customer and gave me the picture. It's the only one I have of me in the Fotomat kiosk on Sunset Blvd. I worked in three kiosks. One on Santa Monica Blvd, Sunset Blvd and a bigger kiosk on Beverly/ Wilshire Blvd.
This was happening before, during and after I met HH Kyabje Zong Rinpoche.I was at Fotomat for a while.
Tsem Rinpoche
---
大家好。我也发现自己挺怪异的……
请看看过去我在哪里工作,在哪居住,及我在洛杉矶做些什么……嘻嘻。当我独自抵达那里时,我只有16岁。当时我得找份工作和落脚的地方。
我马上设起自己的佛坛。这篇博客的题目我写成"美国密续装"。嘻嘻嘻。是的,当时的我非常年轻,也更怪异,我也曾是一名青少年。嘻嘻嘻。请好好欣赏!
詹仁波切的美国"密续装"
这张照片是我大约18岁时拍的,1983年,在我所居住的公寓庭院,位于日落大道的芬摩尔公寓。
我离开了新泽西,搭顺风车横跨美国到加利福尼亚州。后来我在西好莱坞著名的日落大道找到一间一室公寓住了下来。星光大道离我的公寓只有25分钟路程而已,我可以步行到好莱坞大道。我就住在这些城市的中心。
当时我独自一人在Fotomat一间冲洗照片的小店内工作(照片如下)。在这间位于日落大道的一人运作的小店工作,仅够我勉强维持生活。我在这里和各种各样的人打交道,有梦想当摇滚乐队主唱的人、色情片明星、妓女、代理人、小明星及模特儿,他们经过日落大道到Fotomat来冲洗照片。
有一位摇滚乐队的团员,他留着一头披肩的蜷曲长发,口中叼着一根烟,穿着一双很抢眼的红色靴子,摇晃地踏进我的小店冲洗照片。他偶尔在我的店里逗留,告诉我他在日落大道驻唱以维持生活的事,谈酗酒、毒品派对和女人。他戴一副很酷的太阳眼镜,摇摇晃晃地到我的店里来冲洗照片,或只是逗留一会儿……他每早都有宿醉的样子。
我很喜欢他的摇滚造型及红色靴子,他说他在莫洛斯尔大道的Fred Segal 以80美金买的!于是我领到薪水后,便马上到莫洛斯尔大道买了一双一模一样的靴子。(当时我想,谢天谢地,他们竟然有我的尺码!)接着我戴上了耳环,回到Fotomat工作,见我的摇滚英雄。嘻嘻!可惜当时他太醉了,不能好好欣赏我这双与他一样的靴子,我自己则觉得超好看的。不过他有说我的靴子和他的很像,我回答说,是呀是呀,我可以参加你的乐队吗?可不可以成为主唱呢?
当时我的薪水只有一星期120美金,我花了80美金买靴子,结果那个星期只好挨饿了。不过,嘿,我觉得自己酷毙了!所以你明白为什么那时候我的腰围只有29寸,裤管内长34寸!现在我的腰围有44寸,裤管内长34寸。嘻嘻!
当佛教中心里的格西拉看到我穿着这双靴子时,就像你在照片中看到的一样,他多看了我一眼,不过没说什么,我倒抽了一口气……
这双红靴子我穿了一年,然后我把它染成黑色,再穿上一年。之后我对靴子的热情也就消退了。
那个时代,我很喜欢比利爱多尔、亚当安特及朋克摇滚的造型,因此我便模仿他们的的穿着。嘻嘻!我不喜欢乔治男孩的形象,不过我觉得他很有勇气,敢于做自己。
每天下班后,我搭车回到自己位于日落大道的小公寓。我有一两位朋友呆在我那儿弹唱西尔维斯特的歌及抽烟,而我则修诵仪轨和做大礼拜,我每天做100次大礼拜。尽管我外表看来怪异,但我内心却非常热爱佛法!我的朋友认为我是宗教狂热分子,我不管他们。想象一下,你在持诵金刚瑜伽母的仪轨,你的朋友就在你身旁唱着西尔维斯特的"You Make Me Feel, Mighty Real"?不过我却能专注地做持诵。
如果你仔细观察,便可以看到我颈上有一条红色的绳子。那是我逃往加利福尼亚之前,在新泽西那里从嘉瓦仁波切手中得到的。我每天都戴着这条绳子,直到它断了为止。我对至尊嘉瓦仁波切有很大的信念,也非常爱戴他,但我的朋友都不知道他是谁。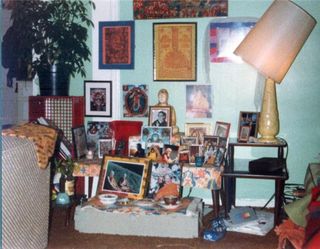 这是我位于芬摩尔公寓里的佛坛。我没有钱买佛像,不过我有很多镶在相框里的高僧喇嘛、本尊、佛菩萨的照片。比如至尊嘉瓦仁波切、赤江仁波切、林仁波切、堪索洛桑达庆仁波切、格西簇亲格而辛、宗喀巴大师、宋仁波切等的照片。在嘉瓦仁波切的黑白照后面,我有一尊以5美元买回来的陶制释迦牟尼佛像,这是在一家二手店买的,人们把祂当作门垫,于是我把祂买回来,洗干净后供奉在我的佛坛上。我很喜欢这尊佛像。后来我在1987年离开加利福尼亚的时候,把祂送给一位在图登达杰林的学生,不知道这尊佛像现在下落如何?我每天都在这个佛坛前做100次的大礼拜,然后持诵仪轨文。佛坛右边是我的单人床,地上那件红蓝相间的被子是我在二手店买的。
1983至1984年间,我在日落大道停车场的Fotomat小相馆工作,不过我的小相馆是蓝色的。人们驾车经过我的店并把底片留下,过几天才来领冲洗好的照片。每天公司都会派货车来收集所有的底片以做冲洗工作。
在小相馆工作的时候,我被人问了上百次我是不是华人、日本人、中美混血儿、墨西哥人、犹太人、意大利人、甚至波兰人?我长得像波兰人吗?不过他们就这样问我。
傍晚时分,很多路过的妓女会停下来与我聊天。你知道吗,她们都是好人。她们只因环境穷困所逼而当妓女。没有人喜欢当妓女,我为她们感到难过。多得Fotomat这份工作,很多时候我被问及是否要当男妓。
有时候,白天好长的一段时间内都没有一个顾客上门,于是我很高兴地修诵金刚瑜伽母和胜乐金刚的仪轨及其他心咒。我喜欢几乎每一天都在Fotomat的小相馆里这么做,因为我有很多的仪轨和心咒必须修诵。我也喜欢修诵仪轨和心咒。
晚间在Fotomat工作的时候,我一个星期至少被抢劫一次。他们拿着枪,要我把钱放进Fotomat的信封然后递给他们,接着要我坐在地上。坐在地上对我来说很吃力,因为我身高6尺2寸,店面又很狭小。 劫匪离开后,我致电报警,警察说:是,是,我知道,又是来自Fotomat的电话。他们很烦,我也很烦。我每个星期都向警察领报告,然后呈交给我的经理以索取保险赔偿。警察根本都没做什么,从来没有人被逮捕或受伤。后来我学乖了,我大约知道他们什么时候会来,而当我看到他们蒙着脸出现时,我会把钱准备好,交给他们然后坐在地上,问他:"孩子们还好吗"。这实在荒谬,但这是千真万确的抢劫!它听起来就像是喜剧的情节,或《周末夜现场》的恶搞情节,不过这是每个星期发生的真实故事。
这是我在Fotomat工作的照片。当时一位顾客拍了照片然后送给我。这是我在日落大道Fotomat工作的唯一照片。我在三间小店内工作,一间在桑达莫妮卡大道,一间在日落大道,还有一间较大的在比威利/威斯尔大道。
詹仁波切

Please support us so that we can continue to bring you more Dharma:
If you are in the United States, please note that your offerings and contributions are tax deductible. ~ the tsemrinpoche.com blog team