Kechara Soup Kitchen is in the press again
Kechara Soup Kitchen (KSK) is making waves upon waves by appearing in the newspapers/ magazines almost weekly this month. I am very proud of them because they work very hard to provide for and assist the homeless. Exposure like this will create awareness for more people to join in and help the needy.
PRESTIGE, JULY 2010
THE STAR, 14th JULY 2010
Click on the paper above, to read carefully regarding the exciting auction and dinner. And that's not all!!! Kechara Soup Kitchen (KSK) was also in the press last week.
THE STAR, 9th JULY 2010
Council to host charity dinner for two groups
Friday July 9, 2010
MASJID JAMEK in Kuala Lumpur was bustling with activity on a late Saturday night with hordes of people queuing up along the sidewalk.
However, what appeared to be an abnormally long line for the bus actually led to a team of volunteers giving out free packs of food and drinks to a group of homeless people.
On a crusade to combat hunger for the homeless and unfortunate of Kuala Lumpur and Petaling Jaya, Kechara Soup Kitchen (KSK) has been distributing free food in the dark alleys and dodgy corners of the cities for nearly four years.
KSK president Ruby Khong said they tried to fulfill the needs of a segment of city society without food and shelter.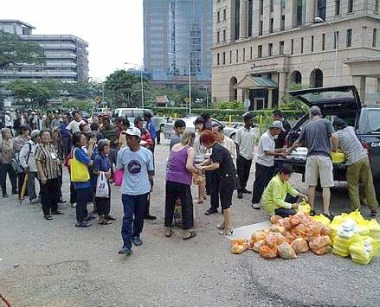 "These homeless people continue to wander the streets of Kuala Lumpur in hunger and uncertainty of what tomorrow holds.
"Our long-term mission is to reduce the number of homeless living on the streets by providing a nurture centre for basic care, training and assistance to help the homeless seek employment and re-enter society."
Formed by volunteers of all faiths, cultures and backgrounds, Kechara Soup Kitchen's activities are rapidly outgrowing its current premises.
Thus there is an urgent need to establish a permanent Soup Kitchen building as an urban centre for the distribution of hot food and provision of basic medical treatment for the homeless, while continuing to deliver food to those who are unable to ome to the centre.
KSK is non-religious and does not discriminate in terms of race, gender or culture.
This is reflected in their motto, "Hunger Knows No Barriers", as well as the vegetarian and halal food that they serve.
Recognising KSK's contributions to society, the Malaysian Timber Council (MTC) is raising funds to help KSK accomplish its objectives and aspirations during a charity dinner to be held on July 15.
Themed "Timber Industry With A Heart", the dinner also intends to raise funds for Childline Malaysia, a national public safety project that aims to protect and safeguard children's interests.
Childline Malaysia, which will be officially launched in October, is a dedicated telephone line for children.
Spearheaded by a group of volunteers, Childline Malaysia is supported by the Women, Family and Community Development Ministry, Unicef, the police, Health Ministry and Child Helpline International.
Childline Malaysia chairman Sabri Rahman children were a vulnerable group for manipulation, psychological, sexual and emotional abuse, human trafficking as well as domestic violence.
Childline Malaysia aims to be the first point of contact for children, and caring adults everywhere, especially when they have no one else to talk to, or when the children's fragile trust has been betrayed by the adults closest to them."
With a mission "Enabling Children to be Heard" and through the establishment of a 24-hour toll-free telephone helpline, Childline Malaysia attempts to connect children in need with the support services like counselling, immediate rescue or intervention provided by government agencies, the emergency services and non-governmental organisations.
"The Malaysian Timber Council believes in the causes advocated by KSK and Childline Malaysia. We hope that the funds raised during our charity dinner will help to contribute towards the advancement of their causes, and ultimately enhance the well-being of the community as a whole," said MTC chief executive officer Cheah Kam Huan.
MTC's fundraising event aims to bring members of the Malaysian timber industry together to contribute to and celebrate the efforts by the Kechara Soup Kitchen (www.kechara.com/ksk) and Childline Malaysia to help the unfortunate members of our society heal and rebuild their lives.
Source: http://thestar.com.my/metro/story.asp?file=/2010/7/9/central/6612187&sec=central
And the week before…
THE STAR, 2nd JULY 2010
At your service
Story and photo by OH ING YEEN (ingyeen@thestar.com.my)
Friday July 2, 2010
THE need to change their lives was what prompted Bud and Yus (not their real names), who were homeless, to take up the job offer by Pan Pacific Kuala Lumpur International Airport (KLIA).
"We were the first to take up the job offers," Bud, the more outspoken of the duo, said.
He added that some of the homeless were not interested in the job offers.
The 25-year-old Sarawakian had been on the streets for eight months after he was robbed upon arrival in KL.
"There are even degree-holders who came to KL looking for jobs. But these people were conned by agents or acquaintances — some from the same kampung — and some were robbed and lost all their money and belongings.
"I lost all my belongings, including my cellphone, hence I lost contact with my family," said Bud.
Both Bud and Yus got to know each other on the streets and became friends. The pair did not know anyone in KL.
Luckily, they came across the Kechara Soup Kitchen (KSK).
KSK is a registered NGO whose volunteers go out every weekend since 2006 to bring freshly cooked vegetarian food and dry food to over 800 men, women and children on the streets.
KSK vice-president Julia Tan said initially she was worried when the hotel proposed the idea of hiring the homeless.
"Some are illiterate," she said. "However, after we asked around, some said they have working experience."
KSK's objective is to help the homeless get off the streets by finding them shelter homes or jobs that will bring dignity back to their shattered lives.
"We want to get them off the streets and them back into mainstream society.
"Nobody chooses to sleep on the streets. Some were cheated, some ran away from home. A high percentage of the homeless are individuals between 60 and 70 years old," Tan said.
According to Pan Pacific KLIA sales (corporate & MICE) director Darus Ismail, this is the first time that the hotel is hiring the homeless.
"When they went to Sabah and Sarawak to recruit employees for the hotel, the response was not so good.
"Then someone told us that there are many Sabahans and Sarawakians in KL, why not recruit them there?
"We got in touch with Kechara Soup Kitchen and were surprised that many of the homeless had experience (in the hospitality industry). We spoke to Julia who then brought them for an interview," he said.
Yus, who hails from Johor, is one such example. He had previously worked in the hotel industry but quit to care for his sick mother.
"I only had two sets of clothes with me when I came to KL. I did not expect that it would be so difficult to get a job here. I ended up sleeping at Masjid India," the 32-year-old said.
Pan Pacific KLIA restaurants, bars, and events manager Aghelan Ganesan, better known as Allen, was equally impressed with some of those interviewed.
"One guy could speak Hakka, Cantonese, English and Bahasa.
Source: http://thestar.com.my/metro/story.asp?file=/2010/7/2/central/6493260&sec=central
For more interesting information:
Please support us so that we can continue to bring you more Dharma:
If you are in the United States, please note that your offerings and contributions are tax deductible. ~ the tsemrinpoche.com blog team