Serkong Dorjechang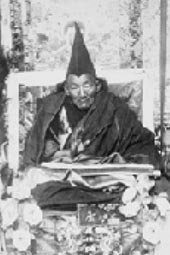 Serkong Dorjechang was a great Lama during the time of the 13th Dalai Lama. He was a monk of Gaden Jangtze and when he was studying in Gyume Tantric College, he would see ladies or dakinis swimming in his tsopu (monk bowl) during pujas. He reported this and other incredible signs to H.H. the 13th Dalai Lama, who advised him to give his robes back (not disrobe) and take on a consort. Serkong Dorjechang followed this advice because he had reached a stage whereby if he did consort practice, it would advance his attainments to an even higher level. And in the history of the Gelug lineage, he is the only Lama that the Dalai Lama has ever advised to give his robes back.
Mind you, not everybody can do this consort practice. Lama Tsongkhapa himself discouraged the actual physical consort practice because he said that many of us are not qualified. And although Lama Tsongkhapa himself was very qualified for consort practice, he didn't do it because he wanted to encourage his students to do visualized consort practice instead. Because if one does visualized consort practice, one does not have to give up one's robes whereas if one does physical consort practice, although it could be faster for those who are attained, it could also be very detrimental to most of us who are not, and who would instead get attached to the lust and desire instead of gaining the actual attainments.
So the 13th Dalai Lama advised Serkong Dorjechang to give his robes back and take on a consort, which he did. He left the monastery and mysteriously, a lady appeared and was seen entering his meditational cave and going in and out. And the funny thing was, nobody knew who this lady was, where she came from, what her lineage was or which part of Tibet she originated from. And after she gave birth to a baby, the lady disappeared. No one could find her any more – there was no trace of her, her lineage, her family, her district or her province. She just disappeared, Serkong Dorjechang had a baby and what's incredible is that the baby turned out to be Serkong Tsenshab Rinpoche.
Serkong Tsenshab Rinpoche also belonged to Gaden Jangtze and he grew up to be the personal debate partner of H.H. the 14th Dalai Lama. He was beloved by his many students and was a very knowledgeable and wise lama who would travel around receiving distant or lost lineages, and he would offer the lineages to the Dalai Lama. He did that until his death.
Now, although he was a layman, Serkong Dorjechang was still invited to the great monastery of Gaden Jangtze to sit in the prayer hall among scholars, ex-abbots, abbots, masters and geshes to give Dharma teachings. My point is, during that time in Tibet, there was no shortage of masters, scholars and knowledge holders in Gaden Jangtze. Yet they still invited Serkong Dorjechang, who was a layman. He would actually come dressed in a chuba (a Tibetan layman's dress) and carrying his baby Serkong Tsenshab Rinpoche; he would sit on the throne giving a bottle to the baby, feeding the baby and teaching the crowd about renunciation. And that blew everybody's mind because everyone knew that his baby did not arise from desire or attachment. They knew that there was a purpose behind all of this.
When the renowned Serkong Dorje Chang passed away, his reincarnation came back and primarily built a very beautiful monastery in Swayambunath which is still there now. If you visit Swayambunath in Nepal, which is a very famous pilgrimage place, right next to it is Serkong Dorje Chang's monastery.
The 2nd Serkong Dorje Chang manifested madness and craziness all the time. He would be running around Nepal, sometimes to the famous stupa in Boudha, and he would go up to a Vajrayogini stone statue and rub her chest. And many people would witness her breathing and sweating. At other times he would walk around the streets, grab dog poo and just eat it, and people would go "Oh my, here's the mad Lama again."
When Serkong Dorjechang died, many people came for his funeral and the incredible thing is, within his funeral fire, people saw his corpse stand up and take on the pose of Vajrayogini. Some saw him as Yamantaka, some saw him as Guhyasamaja, some saw him as Heruka but primarily people saw him as Vajraygini, arising within the fire, standing up and being burned in the pose of Vajrayogini.
The point is that he was a very accomplished practitioner of Vajrayogini. Serkong Dorjechang was not an ordinary master or teacher and now his incarnation is back. I would call him the 3rd Serkong Dorjechang and he is now in Gaden Jangtze monastery and is in his early 20's. His son's incarnation is also back but not in Gaden.
I thought I would relay that little interesting story about Serkong Dorjechang to let you know that the Vajrayogini practice is very sensitive and it is the heart and secret practice of many accomplished beings.
Tsem Rinpoche
Please support us so that we can continue to bring you more Dharma:
If you are in the United States, please note that your offerings and contributions are tax deductible. ~ the tsemrinpoche.com blog team