Is This The Biggest Buddha in Thailand?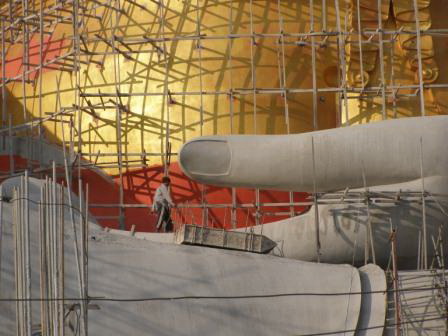 (By Tsem Rinpoche)
The seated Phra Buddha Maha Nawamin statue located at Wat Muang in Ang Thong Province, some two hours north of Bangkok & an hour north of Ayutthaya may well lay claim to that honour.
Check out the short video & look out for the signs that show just how large this statue really is!
The Theravada Buddhism statue towers over both the temple Wat Muang & its surrounding area. Also located at the temple is the aptly named "Hell Park" which is a large "Buddhist Theme Park" full of macabre scenes of mutilation & death depicted through large colorful figures all set in different themed scenes!
The "ubosoth", which is the holiest prayer room at any temple, also known as the "ordination hall" of Wat Muang is surrounded by the biggest lotus petals in the world, there is also a huge golden statue of Kwan Yin the Chinese female Buddhist symbol.
*Many thanks to my good friend Heather Hapeta at The Kiwi Travel Writer for allowing us to share her wonderful copyrighted photos*
Ang Thong is one of the "Central Provinces" of Thailand its name means "golden basin" in Thai which is a reference to geographical layout of the region & the golden color of the rice grown throughout this fertile area.
How to get to the Wat Muang which houses the biggest Buddha in Thailand is easy just take the Asian Highway from Bangkok.
Source: http://www.visit-chiang-mai-online.com/biggest-buddha-thailand.html
Please support us so that we can continue to bring you more Dharma:
If you are in the United States, please note that your offerings and contributions are tax deductible. ~ the tsemrinpoche.com blog team