My Mumu's Birthday March 23, 2010!
Happy Birthday Mumu! Great cake!!
Mumu loves the balloons!! Every ready to play..
March 23, 2010 was a special day for the Birthday boy. Without informing me, a few of my lovely students arranged a wonderful little Birthday party for my Little Yogi (mumu). Many of my students really love mumu because he is so affectionate. They of course invited his best friend Zamkar! Zamkar loved it.
They had balloons, presents, birthday wishes, hats and lots of love.
Justin Ripley (not only good with computer graphics but great cook) and JJ (another great cook specializing in local dishes) together made a wonderful potatoe cake with sweet potatoes on top for the birthday boy and zamkar of course got to share.  Mumu loved his cake and so did zamkar. Mumu is a vegetarian.  Justin and JJ really outdid themselves with this cake..it was creative, filled with care and very delicious judging from the way mumu gulped it down…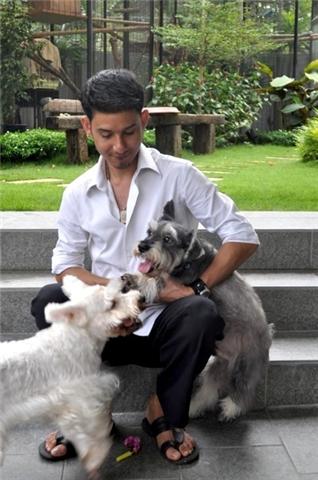 Handsome KB is one of the best human beings you want to meet. He is very kind, never loses his temper, always caring and a genuinely a good hearted person. He is part of our Ladrang Team.
He has many special responsibilities in the ladrang. But he loves animals. He loves mumu. He loves Zamkar. He always picks up Zamkar to bring him to play at ladrang with mumu. He cooks mumu's vegetarian dishes daily with monlam and lovingly feeds mumu.
If mumu's not well or has skin problems, KB immediately takes him to vet, gives him the proper medicines and gets my mumu healed. He bathes mumu twice a week and talks to mumu all the way through his bath.
He will take mumu and zamkar for car rides which they love. He buys toys for them, gives them their monthly preventative medications. Brushes their hair, and always watches them. When mumu is not sleeping with me, KB grabs mumu to sleep with him. Kb takes such good care of mumu because he genuinely loves mumu and zamkar. They love KB in return and you can see it. And everyone in the Ladrang loves and respects KB. I respect Kb alot. I like this picture of Kb with Mumu and Zamkar because it shows so much true warmth between them.
This year our kind KB is going to get married and we are going to celebrate for him. I'll write more of that later!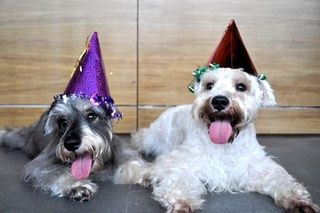 Birthday boy Mumu on the left and his best friend Zamkar on the right. They are good buddies.

Happy Birthday to my little mumu. I will always do everything to protect you and make sure you are happy.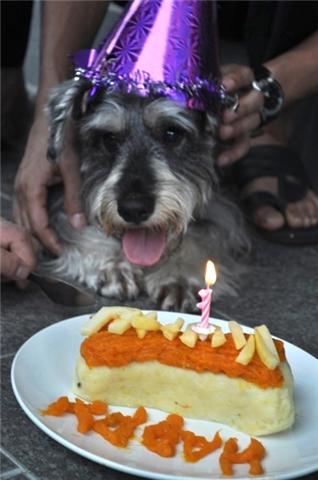 The wonderful Potatoe Birthday cake in the shape of a bone for Mumu by Justin and JJ. I appreciate the cake they made so lovingly for mumu. I thank you Justin and JJ so much for the cake.

Mumu and his good friend Zamkar….they are such a fun duo.

Birthday crowd for mumu..left to right: Monlam, Chia, Rajkumar,Paul, Sangeeta, Kb..with mumu and Zamkar in the back looking on..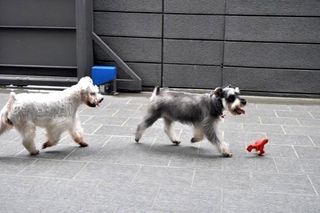 Mumu and Zamkar playing at their party! They ran and ran having a great time today.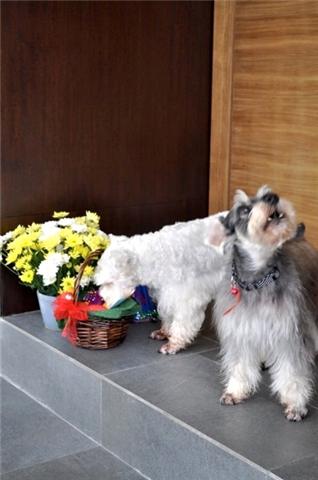 Zamkar sniffing mumu's presents..hehe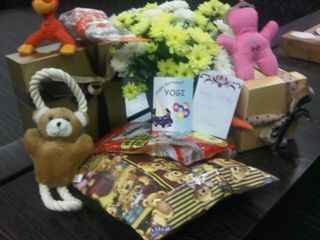 Such beautiful presents and cards for mumu today with flowers…how kind everyone is. I thank everyone on behalf of mumu for everything. Mumu is quietly sleeping next to be as I blog all this because he had a long day.

KB playing with them at the party…fun!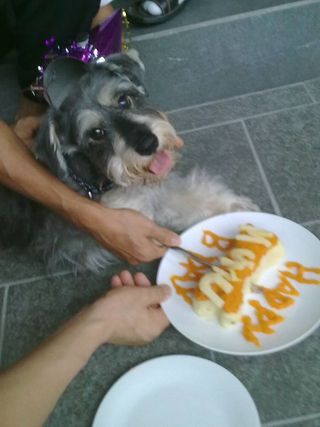 I have a policy of not celebrating birthdays as I have so many students and we would literally have to do a party everyweek, so everyone understands to be fair, I wish them well on that day. For mumu, I made a little exception. I don't regret at all.
Again I thank everyone for your love, care and genuine affection to mumu. He deserves your love and he's happy you all care about him so much. I really appreciate it.
Thank You!!
Tsem Rinpoche

Cards from other Doggie friends named Gonkar, Casper, Jamyang and Bilbo..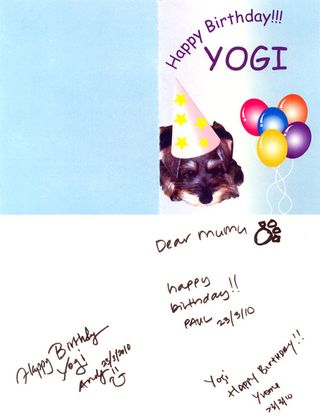 Wow…cute card for Mumu from Yvonne, Paul and Andy!!

From Henry, Angel, Bea and Edward…..so cute..
Please support us so that we can continue to bring you more Dharma:
If you are in the United States, please note that your offerings and contributions are tax deductible. ~ the tsemrinpoche.com blog team