Mdm Chua starting her practice
Date: Wed, 14 Jul 2010 21:59:53 -0700
From: patsygooi
Subject: My little altar ~ Thank you!
Dear Rinpoche
I received this email from one of my customer, Mdm. Chua Lian Chooi, who is one of the regular attendee for Setrap Puja. she will bring her daughter who is around 8 years old when she attends puja. Now her daughter said that she wants to join in the Setrap Puja. Also Mdm Chua's brother has been attending Setrap Puja for the last two weeks.
It's so good to know that through her practice, she is now able to bring her daughter and brother into it as well. Her husband is supportive of her dharma practices and I have invited her husband to attend our KWPC dinner this 18th July and he has accepted. Mdm. Chua will not be attending as she needs to take care of her daughter while her husband stays in KL to attend to his business.
Thank you.
Patsy
From: Chua Lian Chooi
Subject: My little alter ~ Thank you!
To: "Patsy Gooi"
Date: Wednesday, July 14, 2010, 1:20 AM

Patsy,

Finally, my little praying alter using the space next to my long TV cabinet. Look's like I have to put on hold first the 2nd set of the offering bowl (yellow) due to space constraint.

Thank you very much for the gift items from Tsem Rinpoche's section for the Lama Tsongkhapa statue, the limited edition book "If not now, when?" and not forgetting the small Lama Tsongkhapa tsa tsa.

These are some pictures taken. Also, a big thank you to you for the Mala and book "Lama Tsongkhapa – Graphic Novel" to my daughter Cherie. She is excited and placed her mala on the prayer table when she knows I am taking picture. I asked her when she like to start using her mala… interestingly she answered during our next setrap puja session.

Regards,
Chua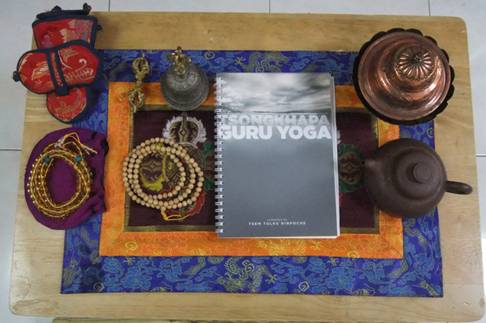 Please support us so that we can continue to bring you more Dharma:
If you are in the United States, please note that your offerings and contributions are tax deductible. ~ the tsemrinpoche.com blog team