Wonderful Kedah, Malaysia
Kedah is a state in northwest Malaysia comprising of the world famous Langkawi Island and the mainland. In terms of population and size, Kedah is a moderate-sized state. Perhaps, that's why much of the state still has a rural feel to it. Hence, for visitors, Kedah can effectively be grouped into two distinct sides of the same coin – the much talked about, much visited tropical archipelago of Langkawi and the more laid back, less visited mainland Kedah.
There is no gainsaying that Langkawi is the state's leading destination. However, there is much more to Kedah than the legendary island of Pulau Langkawi and its surrounding islets. Mainland Kedah is historic in its own right and boasts of absolutely stunning natural attractions and fantastic local cuisines.
History
Kedah's early history can be traced back to a Hindu-Buddhist monarchy that ruled ancient Kedah as early as 110 A.D., as evidence found at archaeological sites in the Bujang Valley suggests. The discovery of temples, iron smelting sites and jetty remains proves that ancient Kedah kingdoms had contact with south Indian Tamil kingdoms and that a well-established sea trade route was already in existence. Going by the archaeological evidence found in the Bujang Valley, ancient Kedah is, in effect, the oldest civilisation in the whole of Southeast Asia.
Around the 7th and 8th centuries, Kedah became part of the powerful Malay state of Srivijaya which played a major role in the already established Indian maritime trade. This led to tensions with the Chola Empire throughout the 9th to 13th centuries. In the 11th century, a successful invasion was led by Virarajendra Chola of the Chola dynasty. By the late 11th century, Kedah was under Chola rule.
Kedah later fell to Siam until it was conquered by the Malay Sultanate in the 15th century. In the 17th century, Kedah suffered another attack, this time from the Portuguese after their successful takeover of Malacca. Kedah witnessed yet another invasion by the Siamese in 1821 even after the Sultan handed over Penang, which was still part of Kedah then, to the British for protection.
By 1896, Kedah along with Perlis and Setul were under the control of the Siamese as the province of Monthon Syburi until it was transferred to the British under the Anglo-Siamese treaty of 1909. During World War II, Kedah was invaded by Japan and handed to their Thai allies, who renamed it Syburi. However, the British regained control by the time the war ended. And by 1948, Kedah became part of the Federation of Malaya.
The present Kedah Sultanate began when the 9th Kedah Maharaja Derbar Raja embraced Islam and changed his name to Sultan Mudzafar Shah I. The Kedah monarchy is passed down from father to son and the late Sultan Abdul Halim, who passed away on 11th September 2017 was the 28th Sultan of Kedah. The 29th and current Sultan of Kedah is Sultan Sallehuddin Ibni Almarhum Sultan Badlishah.
Geography and Demographics
The state of Kedah covers over 9,000 square kilometres and is one of Malaysia's border states – sharing an international boundary with the Songkhla and Yala provinces of Thailand. It also shares borders with the Malaysian states of Perlis to the north, Perak to the south, and Penang to the southwest. Its highest peak is Gunung Jerai, at 1,200 meters above sea level.
The 11 major districts in Kedah are Kota Setar, Baling, Kubang Pasu, Kuala Muda, Bandar Bharu, Kulim, Langkawi, Padang, Terap, Sik, Yan and Pendang. Its biggest cities are Sungai Petani and Alor Setar. Alor Setar, which is the state capital, is a vibrant city and epitomises the government's industrialisation efforts in Kedah. Other major towns include Sungai Petani and Kulim on the mainland and Kuah on Langkawi Island.
According to data as recent as 2015, Kedah has a population of over two million people, making it the sixth most populous state in Malaysia. The population consists of three major ethnic groups – Malays (76%), Chinese (12.7%), and Indians (6.9%). The remaining 4.4% comprises primarily of non-Malaysians. About 77.2% of Kedahans are Muslims, while Buddhists and Hindus form 14.2% and 6.7% of the population respectively.
The major cities in Kedah, as well as their location and population, is summarised in the chart below:
Language
The official language of Malaysia is Bahasa Malaysia or Malay, and there are no fewer than 10 varieties spoken throughout Malaysia. The state of Kedah also has its own distinct variety of Malay known as Kedah Malay, which is widely spoken by the locals. In addition, Mandarin and other Chinese dialects are common among the Malaysian-Chinese of Kedah. Mandarin is also the language of instruction in Chinese vernacular schools. Visitors who may be more comfortable conversing in English have nothing to worry about – English is widely spoken in Kedah and, in fact, many Malaysians are conversant in English.
Economy
Dubbed Malaysia's 'rice bowl', Kedah's main source of income is agriculture. While mainland Kedah is chiefly responsible for Malaysia's rice production, there are positive signs that the state government is attempting to diversify its economy into other areas. Kedah's manufacturing industry is developing at an encouraging rate, with several industrial parks being built to sustain this growth. Another significant contributor to Kedah's economy is the tourism industry, via numerous tourist attractions such as the world famous Langkawi Island.
Weather
Kedah is one of the coolest regions in Malaysia and enjoys a uniform temperature all year round between 21°C to 32°C. The weather can best be described as tropical, with high humidity particularly in the lowlands, which averages between 82-86% per annum. The best time to visit Kedah is from January to June when the weather is sunny and rainfall is low. The wet season runs from May to December and annual rainfall averages between 2,032mm to 2,540mm.
Places of Interest
1. Bujang Valley Archaeological Museum
The Bujang Valley Archaeological Museum serves as a reminder that Kedah was once a busy trading port and a bustling hub that propagated Hinduism and Buddhism in the region between the 3rd and 12th centuries. The archaeological site also gives visitors a glimpse of Bujang Valley's historical past as the first port in Southeast Asia that functioned as an alternative route to the Silk Road that connected Chinese traders to the Far East by land.
Address: Lembah Bujang Archaeological Museum, 08400 Pekan Merbok, Kedah
Phone: +604 457 2005
Website: jmm.gov.my/en/museum/lembah-bujang-archaeological-museum
Admission Fees: Free
Opening Hours: 9.00am to 5.00 pm
2. Buddhist Hermitage Lunas
This Theravadan Buddhist meditation retreat centre in Lunas, Kedah is affiliated with the tradition of Mahasi Sayadaw of Burma. The architecture of the hermitage has both Chinese and Thai influences. It was built in 1990 by a monk who was conversant in English and Hokkien, and is under the patronage of one of the wives of Soon Ah Lee, the founder of Lunas. Meditation courses are offered here with live-in facilities available for both monastics and lay people.
Address: Lot 297, Kampung Seberang Sungai, 09600 Lunas, Kedah.
Phone: +6012 428 4811
Website: buddhisthermitagelunas.blogspot.my
3. Wat Kalai (Big Buddha Temple)
Wat Kalai is Kedah's famous Big Buddha Siamese Temple, built more than 200 years ago by Prak Nikcrodthamadtada. Sitting majestically at 21 metres tall, the Phra Buddha statue at Wat Kalai is an architectural masterpiece. Easily the biggest of its kind in the state, the Phra Buddha sits in meditation pose on a lotus, and the four concrete walls of its base are adorned with 64 smaller Phra Buddha statues.
Address: Kg. Kalai, Mk. Jeneri, Jeniang, 08700 Gurun, Kedah.
Phone: +604 464 4243
4. Gunung Jerai
Gunung Jerai (Mount Jerai) is Kedah's highest peak towering 1,175 metres (3,854 feet) above sea level. This massive limestone mountain is believed to have previously been an island called Pulau Serai before the sea levels receded, resulting in what we know as Gunung Jerai today. During the time when Kedah was a major trading port, this mountain was a beacon for seafarers. Like all mountains, Gunung Jerai has its fair share of stories and myths.
This sacred mountain used to be the kingdom of the infamous Raja Bersiong. According to Malay legend, Raja Bersiong was a king who developed a taste for human blood after his cook accidentally cut her finger and a drop of her blood fell into his food. In recent times, archaeologists have unearthed the 'Temple of the Ninth Water Pool', believed to be the private pool of the bloodthirsty Raja Bersiong.
5. Air Terjun Puteri Mandi
Hailed as the most beautiful waterfall in Kedah, Air Terjun Puteri Mandi (or Bathing Princess Waterfall) is located at the foot of Gunung Jerai, more specifically in Hutan Lipur Titi Hayun, which is a recreational forest in Yan, Kedah.
Some trekking is required to access the waterfall and depending on the trekker's level of fitness, the trek can take as little as 40 minutes.
6. Wat Nikrodharam
Wat Nikrodharam is an important religious and architectural landmark in Kedah. This Siamese temple was built in 1968 with Thai and Chinese elements brilliantly fused together, and is decorated with images of nagas and garudas, Thai Buddhist icons, Chinese motifs and roof finials called lamyong. The main temple is in the centre of Jalan Telok Wanjah and Jalan Stadium.
Address: Wanjah, Jalan Stadium, 05200 Alor Setar, Kedah.
Phone: +604 731 1624
7. Langkawi Geological Park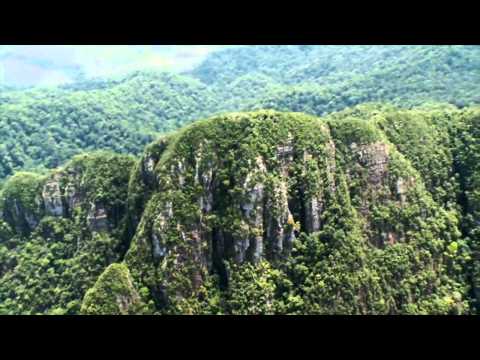 Or view the video on the server at:
https://video.tsemtulku.com/videos/Langkawi-Geopark.mp4
On 1st June 2007, Langkawi Geopark was awarded the status of Global Geopark by UNESCO, making it the first UNESCO Geopark in Southeast Asia. According to UNESCO, this geopark was 'endorsed for its natural beauty, ecological harmony and archaeological, geological and cultural significance.' Noted for its stunning rock formations, lush tropical forests, natural mangroves, sea caves, caves with beautiful stalagmites and stalactites, diverse wildlife and waterfalls, there is so much to explore at just this geopark alone.
There are over 90 geo-sites found in the Langkawi area but three notable ones make up the Langkawi Geopark, each with its own distinctive geological significance:
Kilim Karst Geoforest Park
Machinchang Cambrian Geoforest Park
Dayang Bunting Marble Geoforest Park
Address: Kompleks LADA, Jalan Persiaran Putra, 07000 Langkawi, Kedah.
Phone: +604 960 0600
Website: naturallylangkawi.my
Opening Hours:
Sunday to Wednesday: 9.00am to 5.00pm
Thursday: 9.00am to 3.30pm
Friday and Saturday: Closed
8. Paddy Museum
The Paddy Museum is perhaps Kedah's most symbolic tourist attraction as it embodies the country's staple food – rice. The Paddy Museum is located near Gunung Keriang, also known as Crystal Mountain, and is Malaysia's first Paddy Museum.
Its design is unique and one of the first things you'll notice is how the rooftop is inspired by bushels of harvested rice stalks. You will also find rice-inspired designs in its gates, fences, walls, staircases, floors, and so forth.
Covering over 12,000 square metres over three floors, this museum showcases how rice is cultivated, displays different types of rice, and features tools and equipment used in rice cultivation throughout the ages.
Address: Lot 798 Jalan Gunung Keriang, 06570 Alor Setar, Kedah.
Phone: +604 735 1315
Opening Hours: 9.00am to 5.00pm, closed from 12.30pm to 2.30pm on Fridays.
Admission Fees: RM3 (adults), RM1 (children aged 7 – 12), RM2 (cameras)
9. Pulau Payar Marine Park
Just an hour's boat ride from Langkawi is the best marine park on Malaysia's west coast. This pristine, uninhabited marine park consists of several islands, the largest of which is Pulau Payar.
Those who enjoy marine adventures will find Pulau Payar Marine Park worth a full day visit. Aside from fun activities like swimming, snorkelling, diving and boat rides, the Park also has an underwater observation chamber where visitors can get up close and personal with endangered marine creatures.
Diving is one of the major activities visitors look forward to while at the Park, and the Coral Garden is one of the top dive spots. Before booking a dive or snorkel session, it is best to check with dive operators on visibility conditions as water clarity varies. The park also has facilities such as picnic tables, BBQ pits, gazebos and restrooms at strategic locations all over the island.
Phone: +604 966 7789/5271 (Langkawi Tourist Information Centre)
Website: naturallylangkawi.my/portfolio/pulau-payar-marine-park
10. Langkawi SkyCab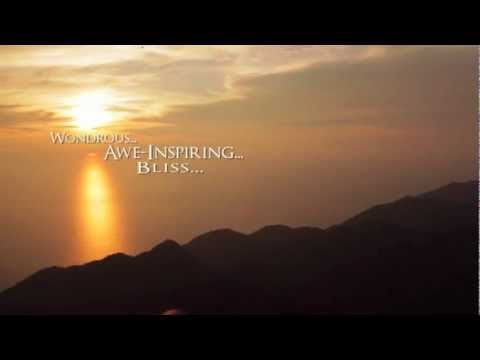 Or view the video on the server at:
https://video.tsemtulku.com/videos/Langkawi-skycab.mp4
One of the best ways to see Langkawi Island in all its glory is with a bird's eye view from Langkawi SkyCab, the world's steepest cable car ride. No matter how much you explore Langkawi Island by foot, boat or bike, there is nothing like viewing it from above — the scenery is simply mesmerising. As an added bonus, the cable car brings you right to the top of Gunung Machinchang, where the air is fresh and photo opportunities are aplenty.
Visitors can choose from normal gondolas that seat six to glass-bottomed and VIP gondolas. Glass-bottomed gondolas are not for the faint-hearted but if you are not afraid of heights, it is truly an exhilarating experience. The Langkawi SkyCab is closed for maintenance from 1st to 13th April each year. It is recommended to check the operating schedule ahead of time. Tickets for the Langkawi SkyCab also include admission to the SkyDome and SkyRex.
Address: Panorama Langkawi Cable Car Station, Oriental Village, Burau Bay, 07000 Langkawi, Kedah.
Phone: +604 959 4225/1225
Website: panoramalangkawi.com
11. Langkawi SkyBridge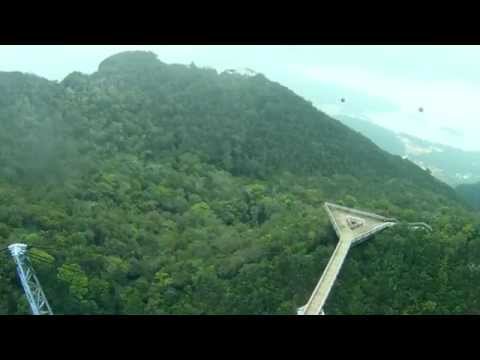 Or view the video on the server at:
https://video.tsemtulku.com/videos/Langkawi-skybridge.mp4
Not to be missed is the World's Longest Free Span and Curved Bridge, also known as the Langkawi SkyBridge. Spanning over 125 metres in length, the SkyBridge is 100 metres above ground level. Unlike a straight bridge, this curved bridge offers stunning views as the perspective changes as one walks along it. It is located at the top of Gunung Machinchang, only accessible via the Langkawi SkyCab.
Address: Panorama Langkawi Cable Car Station, Oriental Village, Burau Bay, 07000 Langkawi, Kedah.
Phone: +604 959 4225/1225
Website: panoramalangkawi.com
Admission Fees: RM5 (Adults), RM3 (Children)
12. Temurun Waterfalls
With so many gorgeous beaches in Langkawi, not many know of the stunning waterfalls this island has to offer, such as the Temurun Falls. Located in Gunung Forest Reserve, northwest off the main island, this waterfall features a drop from a height of 200 meters. The best time to visit is during the rainy season at the end of the year when the waterfall is bursting with life. During the dry season, the waterfall is slow and shallow.
13. Tasik Dayang Bunting
About 20 km from Kuah town is the legendary lake, Tasik Dayang Bunting. According to the legend, this freshwater lake was the favourite bathing pool of a beautiful celestial princess, Mambang Sari. A prince by the name of Mat Teja was so smitten by her beauty that he decided to marry her. However, the princess rejected his proposal.
Undaunted, Mat Teja then sought the advice of a local shaman who told him to wash his face with the tears of a mermaid princess. True to the shaman's advice, after washing his face with the mermaid's tears, Mambang Sari had a change of heart and they were both married. Their union resulted in a child but sadly, their baby did not live past seven days. The death of her beloved child left Mambang Sari broken hearted. The grieving distraught princess left her child's body in the lake and returned to her heavenly home. Locals believe that any woman who wishes for a child will be endowed with one after bathing in this mystical lake.
14. Zahir Mosque
Zahir Mosque or Masjid Zahir in Malay is one of the oldest and grandest mosques in Malaysia. This state mosque was built in 1912 by the then ruler of Kedah, Sultan Muhammad Jiwa Zainal Abidin II, who was inspired by the Azizi Mosque in Northern Sumatra. This iconic landmark has five black domes symbolising The Five Pillars of Islam – Shahada (faith), Salat (prayer), Zakat (charity), Sawm (fasting) and Haj (pilgrimage to Mecca).
Zahir Mosque was voted one of the "Top 30 Most Beautiful Mosques in the World" and is also the venue of the annual Quran reading competition.
Address: Jalan Kampung Perak, Bandar Alor Setar, 05150 Alor Setar, Kedah.
Phone: +604 733 3288
15. Wat Charok Padang
Built in 1999, this unique Thai temple in Sik, Kedah holds the record for being the first glass bottle Buddhist temple in Malaysia. Inspired by the Temple of Million Bottles in Sisaket, Thailand, Wat Charok Padang is made from 100,000 recycled glass bottles. People of all races from the nearby villages helped to build this temple by donating their unused bottles.
Within the temple compound is its iconic 9-metre tall glass bottle with a special area at its base that can fit one car. Cars are driven through this giant glass bottle in a ritual to "wash away all bad luck". The temple also has 92 bells that are used during prayers and rituals.
Address: Kampung Charok Padang, 08210 Sik, Kedah
Phone: +604-469 5616
16. Mahsuri's Tomb
Kedah's Langkawi Island is particularly fascinating due to its rich history and many legends. One of the most popular legends is that of Mahsuri, who lived during the time of the Siamese invasion of Kedah. This stunning beauty was the object of much admiration; however, many were also jealous of her beauty and grace including her own mother-in-law, who accused her of adultery when Mahsuri's husband, Wan Darus, was away battling the Siamese invaders.
Mahsuri defended her innocence but was "found guilty" by the villagers who tied her to a stake. She was then given a death sentence. However, strangely, none of the spears, knives or daggers could pierce her body. Mahsuri finally revealed that she could only be killed by her family's heirloom keris or Malay ceremonial dagger. When her family's keris pierced her body, white blood flowed from her wounds, indicating that she was indeed innocent.
With her dying breath, Mahsuri cursed Langkawi — it would be plagued by misfortune for seven generations. True enough, after her death, Langkawi was invaded by the Siamese and to prevent the invaders from advancing, the islanders burnt their rice fields to the ground and poisoned their wells. To this day, visitors to Padang Masirat can still see traces of burnt rice especially after heavy rainfall.
Locals believe that if you dip your hand into the well that is within the vicinity of Mahsuri's Tomb or Makam Mahsuri, you too will be blessed with great beauty.
Address: Kampung Mawat, Mukim Ulu Melaka, Langkawi, Kedah.
Opening Hours: 8.00am to 6.00pm
17. Langkawi Mangroves
A trip to Langkawi Mangroves is truly special. Visitors don't just get to sight-see, but will also learn more about the forest mangrove. The mangrove forest covers an area of 1310 hectares and extends to the riverbanks. The scenery is some of the best you'll come across in Kedah. If you travel with children, this is an excellent educational yet fun opportunity. The young ones will get to experience the ecosystem first hand and gain useful knowledge to take back home.
18. Wat Koh Wanararm
Located outside Kuah town in Langkawi is Wat Koh Wanararm, famed for its large statue of Guan Yin (the Goddess of Mercy or Chenrezig to Tibetan Buddhists), carved out of the limestone mountain behind this Siamese temple.
There are eight stupas within the temple grounds with names such as Stupa of Many Doors, Stupa of Enlightenment and so forth. Visitors can also relax in the landscaped garden with its pagodas, prayer wheels, fishpond and Buddha statues.
This temple is also commonly known as Luang Por Khun or Luang Phor Khoon temple, named after its founder, a famous Thai monk.
Address: Bukit Putih – Jalan Air Hangat, Kuah, Langkawi, Kedah.
Phone: +604 967 1917
19. Atma Alam Batik Art Village
Located near Padang Masirat, Atma Alam Batik Art Village is the birthplace of Langkawi's handmade batik. Founded by Aza Osman and Roshadah Yusof, this is the original batik village featuring a batik workshop, showroom, art gallery and handicraft section with high quality local products at affordable prices.
Endorsed by the Ministry of Culture, Arts and Heritage, this is a good place for visitors to experience firsthand what batik is all about. Individuals and groups who would like to try their hand at batik painting can make an appointment with the management.
Address: Padang Mat Sirat, 07000 Langkawi, Kedah.
Phone: +6019 387 1227
Website: atmaalam.com
Opening hours: 10.00am to 6.00pm daily
20. Tanjung Rhu Beach
No visit to Kedah is complete without a visit to the beach. While Pantai Cenang (Cenang Beach) is the most popular on Langkawi Island, Tanjung Rhu is the perfect spot for a relaxing holiday away from the crowds. Located northeast of Langkawi, Tanjung Rhu is secluded and offers powder-fine sandy beaches and shallow emerald waters which are great for swimming. Known for its stunning sunsets, Tanjung Rhu is also hailed as one of the most romantic beaches in Malaysia.
Website: langkawi-online.com/tanjung-rhu-beach-langkawi
Must-Try Kedah Delicacies
The cultural diversity of Malaysia means that visitors are spoilt for choice when it comes to local cuisine. Food is an important part of what makes Kedah different from any other state in Malaysia. So what better way to taste Kedah culture than through its local delicacies?
Apart from traditional Kedah treats, you'll also find multicultural cuisines including Thai, Chinese, Indian and Japanese dishes served in Kedah's numerous hotels and restaurants. The ubiquitous Tom Yam Soup is particularly popular since Kedah is so close to the Thai border. Sushi and dim sum are also popular choices with visitors and you can even find Italian and German dishes served in restaurants across Kedah.
Laksa Kedah
For a region so connected with rice, it is no surprise that rice is the principal food in Kedah. But variety is the spice of life and so the Laksa Utara is a dish of rice noodles heavily flavoured with fish and spices, with cucumber and onion garnishes and topped with local herbs such as daun kesum and sour asam (tamarind). What makes this dish particularly special is the fresh mackerel from the fishing villages along the coast of Kedah.
Nasi Ulam
Another delicacy not to be missed is Nasi Ulam. This special rice dish is typically served during the fasting month of Ramadan. It is made from cold steamed rice mixed with thinly sliced fresh raw herbs, bird's eye chillies, shallots, lemongrass, dried shrimp and cucumber. The herbs used to flavour this dish include ginger flowers, turmeric leaves, kaffir lime leaves, mint and basil. It is usually served with a gravy made with lime juice and palm sugar.
Pulut Inti
Yet another rice delicacy is Pulut Inti which is made from glutinous rice. The sweet and sticky rice is usually paired with mango, durian or banana. However, there is also a savoury version of Pulut Inti which is eaten with sambal or chilli sauce.
Kuih Karas
Made from rice, flour, coconut cream and sugar, Kuih Karas is a favourite dessert of Kedahans. This crispy confection is available at markets or food stalls throughout the state and is best savoured with a cup of local coffee.
Fried Porridge
Known as "char moay" in the Hokkien dialect, this flavourful savoury porridge is made with many ingredients including minced meat, cuttlefish, prawns, salted meat, dark soy sauce and garnished with spring onions. This dark brown congee may not be the most visually appealing dish but those who have tasted it find it so flavourful that they have no trouble going back for seconds.
Gulai Nangka
This unique local delicacy is actually young jackfruit cooked in a spiced coconut milk gravy flavoured with chillies, shallots, turmeric and lemongrass. It is best eaten with steamed rice and a side of sambal.
References
http://www.malaysia.travel/
https://naturallylangkawi.my/
https://integratedinfo.com.my/places-of-worship-kedah/
http://www.langkawi-info.com/
http://www.wonderfulmalaysia.com/
http://www.atmaalam.com/
http://www.panoramalangkawi.com/
For more interesting information:
Please support us so that we can continue to bring you more Dharma:
If you are in the United States, please note that your offerings and contributions are tax deductible. ~ the tsemrinpoche.com blog team