From Datin Jennifer, Paris & Monlam!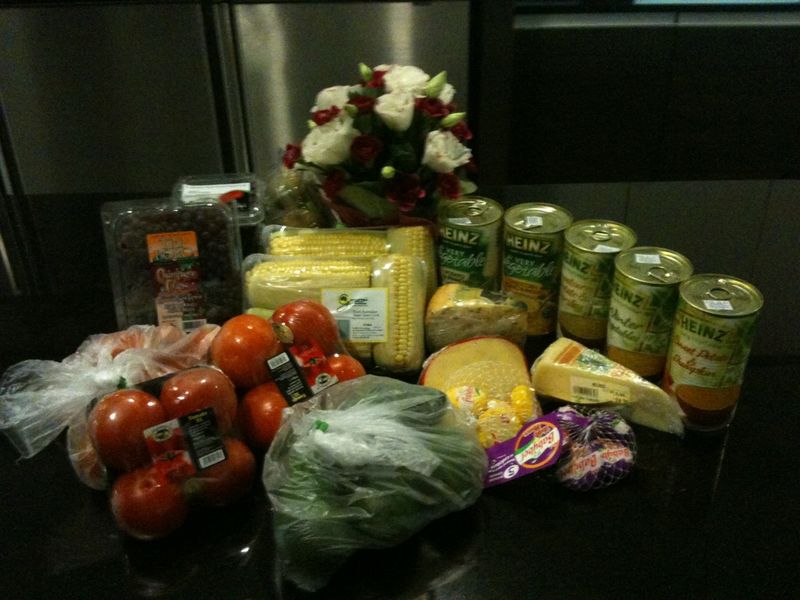 I am blogging this to show you how generous, caring and loving people here are. Nothing in this picture is simply just grabbed and presented to me. Everything is healthy, picked with alot of thought and so much consideration for my health. Datin Jennifer, her daughter KMP writer Paris and Monlam surprised me with this today. It's all the things I love, should eat and very healthy. How caring of them. So touching.
What you see are cherries, yellow kiwifruits, champagne grapes, super sweet corn, roma tomatoes, avocadoes, gouda and various cheeses, potato spinach-sweet-corn-parsley-winter veg-pumpkins soups and to top it off, bouquet of flowers!!
It's not the gifts or the items of course, they are wonderful that touches me, but the care and sincerity.
Thank you Datin Jennifer, Paris and Monlam..I will EAT IT ALL while sniffing the flowers AFTER THEY'VE BEEN OFFERED TO VAJRA YOGINI…hehehe
Tsem Rinpoche
Please support us so that we can continue to bring you more Dharma:
If you are in the United States, please note that your offerings and contributions are tax deductible. ~ the tsemrinpoche.com blog team