Ingredients for a successful relationship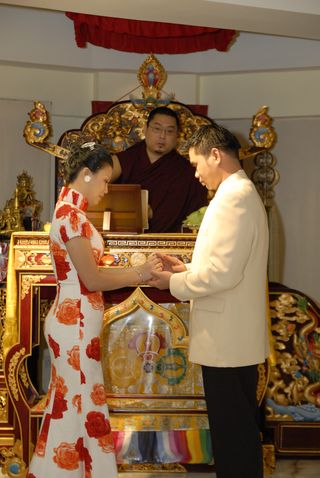 (By Tsem Rinpoche)
Suzan and her husband during the wedding ceremony. Chinese have a unique custom. The bride should wear red during the wedding as red denotes wealth, prosperity, good luck, and growth.
I was requested to perform a Wedding Ceremony. It was for a long time student, Suzan. She was getting married and her family requested and I accepted.
During the ceremony I shared with them my thoughts on how to make any relationship work under normal circumstances. I was told later on that my talk benefited many people. I was very humbled by that so I decided to post it her as perhaps it would help other people.
People are going to get married, get into relationships, have partners and they have been coming to me for decades asking for advice. I am not the best person to give advice, but I try. So please take a listen and perhaps pass it to friends who might need to hear what I am sharing.
With humility,
Tsem Rinpoche

---
Below is the speech I gave during the Wedding Ceremony. It is about how to stay married. How to have a good relationship with your partner. My speech was for Suzan and her husband, but it can apply to anyone. Do listen.
(There is Chinese translation in the beginning, the majority of the talk is in English)
Part 1/3
Part 2/3
Part 3/3
Please support us so that we can continue to bring you more Dharma:
If you are in the United States, please note that your offerings and contributions are tax deductible. ~ the tsemrinpoche.com blog team