Mumu's Family Reunion
I visited Wow Wow Pets Shop at OUG some time ago. This is the shop where I adopted Yogi/Mumu 6 years ago, and the shop is owned by a very loving lady called Elize. I would like to share some of Mumu's family "reunion" pictures with you.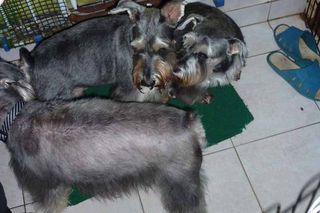 Mumu with striped collar sniffing his dad and behind dad is his cute sister.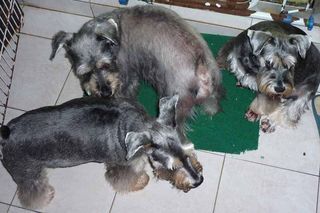 Mumu in the centre. Dad on the left and cute sister on the right. Mumu sister  came out right after mumu at birth. They are the same batch.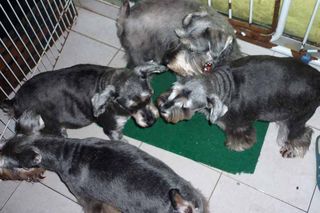 Mumu's dad on the left, mumu's mother sniffing Mumu's sister on the green. Mumu in the back on the green also.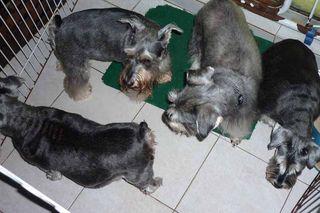 Left to right. Mumu's mom, dad, mumu and sister. The whole family!! Cute. I love them all!!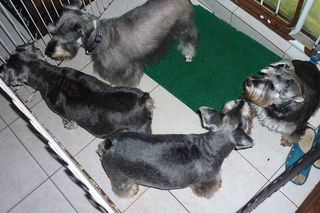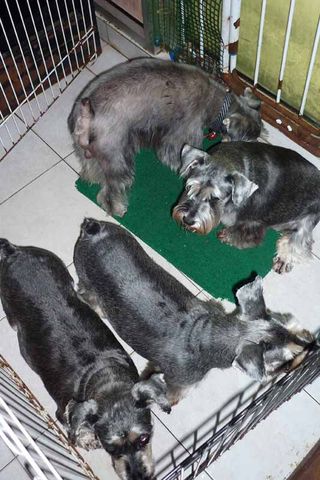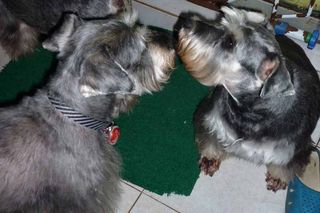 Mumu sniffing his sister. They look so similar. I instantly liked her. Her name is Gal-Gal. Cute!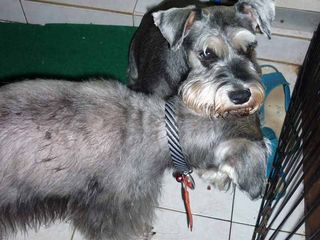 Mumu and Gal-Gal. Gal-Gal facing us.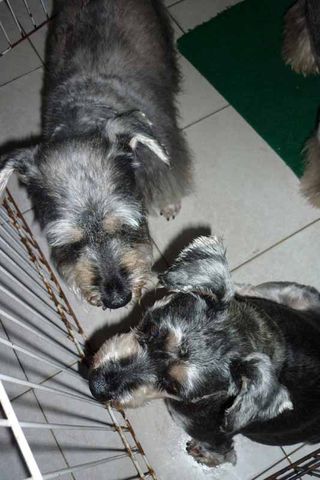 (Above) Mumu on the  left and his mother Jessie. So cute. When we were there, Jessie friendly but barking and 'scolding' her family like a real cute housewife. I love Jessie!
Mumu and mom!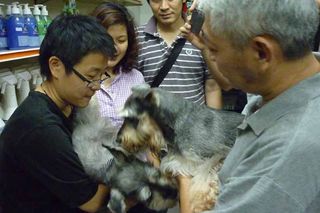 Above is Mumu on the left and dad Smokey on the right. Smokey very handsome and alert.
This is the owner, Elize. She loves her dogs very much…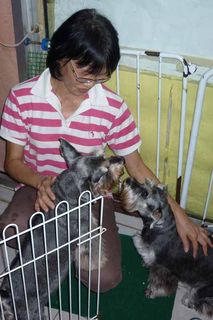 Here is Elize & Mumu (below). Mumu wears a protected/blessed string and Manjushri pendant. I want Mumu to be blessed always and plant seeds for his future lives. By Manjushri touching my mumu daily, it will plant powerful dharma seeds in his mindstream. I created these pendants for pets. They are safe and have no sharp edges. I wanted everyone's pet to be blessed. I have them available at KECHARA PARADISE OUTLETS and online.
Mumu being with me has to bear positive dharma fruits for him in the future hence I created the Manjushri pendants for him. Inspired by Mumu to have it available for all pets.  I love my Mumu very much…. Mumu is my good boy….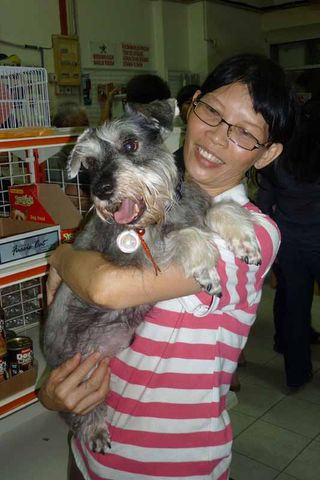 This is me with mumu's mother Jessie and mumu's father Smokey (below).
I'm holding mumu's father Smokey below.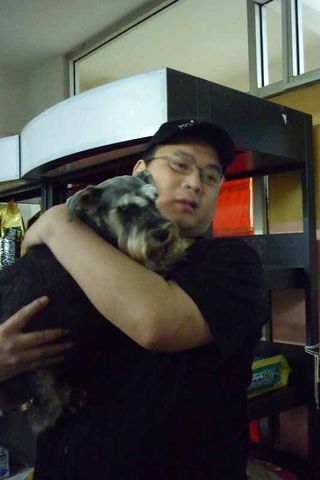 Well that's my little Mumu's family reunion. I guess it will be nice for them to meet up sometimes again and again. I enjoyed seeing them so much together. Very cute family.
Tsem Rinpoche
Please support us so that we can continue to bring you more Dharma:
If you are in the United States, please note that your offerings and contributions are tax deductible. ~ the tsemrinpoche.com blog team