Vajra Yogini Daju or self initiation
Recently I had monk friends from Gaden visit me. They had assisted me in the Vajra Yogini Self initiation rite that I had needed to do.
Extensive tormas and preparations were done. And the self initiation itself took around 7 glorious hours.
Self initiation purifies ones vows taken before, mends them, re affirms them, and powerful to purify many downfalls in general that prevent attainments from one's practice. Also you may retake your mantra count commitment if it was broken.
You plant the 4 types of initiations into one's mindstream. It is necessary for the Lama also to do daju prior to conferring Vajra Yogini's initiation to others.
It is a powerful tantric practice to restore one's practice from time to time to assure success in one's sadhanas.
Kating Rinpoche (left), myself (centre) and Ven Losang (right). This photo was taken in my ladrang in front of the  beautiful shrine with 208 Lama Tsongkapas in the niches behind us. These two monks helped me with the sacred Vajra Yogini Daju and have returned. They are wonderful monks. I thank them so much.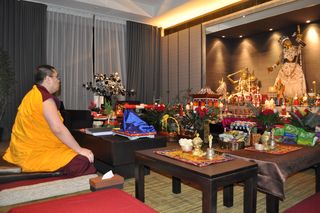 Myself about to begin the sacred Vajra Yogini Daju. The seats on my right are for the two venerable monks who are joining me for the Daju. In front is my personal altar with Holy Vajra Yogini and Manjushri in my room.
I am indeed fortunate that I was able to obtain this sacred practice from my enlightened master with full commentary and oral transmission. In the future, many of my students will engage in this sacred practice when the time is right. It is the most appropriate practice for people of this time.
It was indeed an honour and great blessing for me to do the daju. I felt extremely happy and blissful.
Tsem Rinpoche
Please support us so that we can continue to bring you more Dharma:
If you are in the United States, please note that your offerings and contributions are tax deductible. ~ the tsemrinpoche.com blog team