THIS IS ME IN HOLLYWOOD IN THE 80′S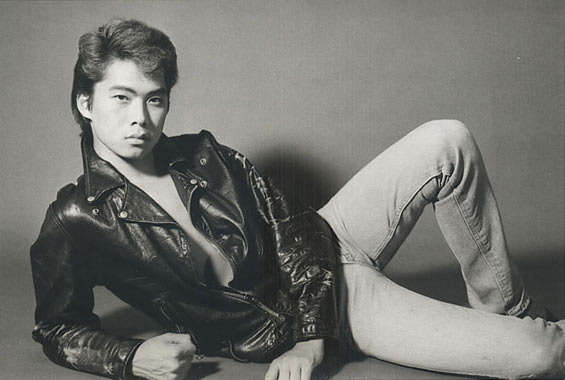 This is a picture of me taken in the 80's in Hollywood, California where I lived. I don't even remember who took the photo now.
My step-parents didn't allow me to do Dharma or get involved with the centre. I ran away like three times and on the third time I was successful. My step-parents didn't try to get me back anymore. I left New Jersey at 16 and hitchiked across the United States on my own to California. I had like US$50 and bought cheap apples to eat on the way and slept outside. It was really cold at night. I wanted to go to Hawaii, but didn't have money in California so just stayed in Hollywood, worked and lived in the dharma centre called Thubten Dhargye Ling or TDL. It was headed by a great master named Geshe Tsultrim Gyeltsen. I loved him very much. He passed away recently. That is where I met Kyabje Zong Rinpoche who changed my whole life. He acknowledged I am a Tulku.
Had done some extras parts for Paramount Pictures and voiceover work and asked to do light modelling. But I was very into the Dharma Centre (Thubten Dhargye Ling) and wanted to be there. I wanted Dharma.
I asked Zong Rinpoche for a divination once in Thubten Dhargye Ling. I didn't know which one I should do to benefit the Dharma. To be an actor/singer or monk. I just wanted to really benefit the dharma I thought at that time.  I asked can I be a actor or singer so I can support the monasteries or should I become a monk? Zong Rinpoche did divination with dice (powerful) and said if I do anything in front of the camera I will make it big and successful, but it would be more beneficial if I become a monk. So there and then I swore to Kyabje Zong Rinpoche that I would be a monk. So he cut a part of my hair and accepted my promise.
It's weird because I got calls from casting agent with Paramount Pictures a few times after that. The secretary of Thubten Dhargye Ling kept losing the contacts. The casting agent was Joyce and she called three times and left voice messages on the centre's answering machine. And three times the secretary of the centre heard the message, pressed the wrong button and erased and said to me 'SORRY' and I was like ok…..and lost the contact.
A few years later, I did a voiceover for extra money and met Joyce. She was an attractive, freindly, well dressed Black lady. She said to me, oh my god, you are the kid I was trying to contact to help with the sets for Golden Child movie with Eddie Murphy. Why didn't you return my calls!!?? I was like, well there's this person in charge of the phones where I stayed and well….Joyce was like I tried so many times to get you. I heard about you and wanted to meet you she said to me….wow! Joyce was very nice though…wish I can meet up with her again and say hi. I forgot her last name though.
I'd be walking down Sunset Blvd or Melrose Blvd and get stopped and be given cards to do all types of modelling jobs of which some were very weird but interesting now that I look back.  I doubt I would get any modelling jobs now even if I camped out on Sunset, heheeheheh.
Tibetan 'Ah' syllable found on the inside of the skull of the 2nd Zong Rinpoche, Zongtrul Tenpa Chopel (1836-1899 AD) after his cremation ceremony
Tsem Rinpoche
Please support us so that we can continue to bring you more Dharma:
If you are in the United States, please note that your offerings and contributions are tax deductible. ~ the tsemrinpoche.com blog team