Lama Yeshe the Great Mahasiddha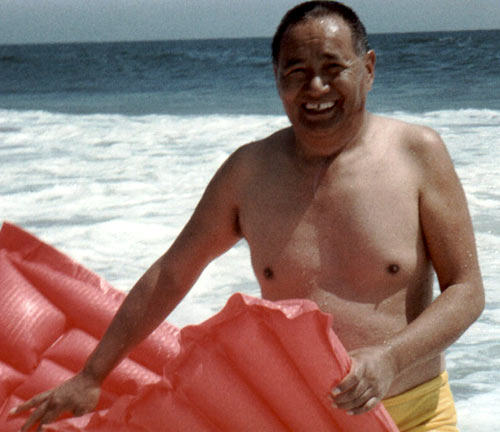 Lama Yeshe was so unconvential, different and not the normal conservative Tibetan Lama. He appealed to thousands because of his open minded, accepting, unstuffy attitude and genuine human care to his students. I like this picture so much as it exemplifies the wonderful warm methods that Lama Yeshe always did for the sake of his students. He would just get close to them on their level according to their culture. He really wanted to understand them. His get-close-to-your-student-in-their-activities kind of thinking brought so many to the sacred dharma…. I Love and respect you so much Lama.
Sincerely,
Tsem Rinpoche
"It's difficult to characterize such a multilayered and unique personality like Lama Yeshe, but, knowing him for 9 years I will try to find a few keywords: a pioneering bridge-builder between East and West, unorthodox maverick, Buddhist hippie, thought provoking, sharp thinker and analyst, intuitive, creative, unpredictable, controverse, spontanious, individualist, vajra-pride (spiritual pride), stylish, open-minded, quick, soft but strict, heart-centered, rethoric talent, humorous, quick-witted, friend of good food, complex, natural sense for beauty, bright intelligence, satirical, comprehensive magic recources, human, powerful, mischievous, dramatic, entertaining, radiating, charming, organizing talent, self-confident, adventurous, eccentric, boyish, ready to help, generous, good listener, reading people's mind, occasionally moody, honest, unconvential. To his closer students and monks he could be rigorous and demanding. But this was common use and part of a more intensive monastic Buddhist education. By his heart he always stayed a caring and loving teacher and friend. In Buddhist tantric terms a unique mixture of Manjushri, Vajrapani, Chenrezig, Green Tara and Heruka…" – With kind regards from Ireland, Champa Legshe (Hans Taeger)
Dear friends,
Read this wonderful description of the legendary Lama Yeshe according to his student Champa Legshe. To me it is such a wonderfully apt description of this great Mahasiddha of the Gaden Tradition. I love the description and wanted to share with you. Do read through it and let me know what you think please by posting on the comments.
Lama Yeshe was one of my heroes when I was growing up. I wanted to be a combination of him and HH the Dalai Lama when I grew up I use to think as a young child. I love Lama Yeshe, his unconventional style, his warmth, his attainments, his love and his humanity. What an attained being Lama Yeshe is.
Tsem Rinpoche
Click here to read.

Please support us so that we can continue to bring you more Dharma:
If you are in the United States, please note that your offerings and contributions are tax deductible. ~ the tsemrinpoche.com blog team