Hey Everyone, I AM A DESIGNER!! Move over Versace and LV!!
I like designing dharma items into something modern. I have been designing the special pendants we have available for years. I've made Tsongkapa, Shakyamuni, Tara, Buddha, Setrap, Dukkar, Manjushri, Dzambala into something very wearable in both pure silver and gold pieces. Many people like them very much.
I do the designs and pass it to Liaison Paul in Kechara Discovery Dept( http://www.kechara.com/discovery/ ) who gets it manufactured. When it's done, it is delivered to our five Kechara Paradise ( http://www.kechara.com/paradise/ ) retail dharma stores throughout Malaysia. 
I do not dare take any profits from these. The profits go to all our many dharma works, staff and projects for the community. Action dharma needs funding. I like self sustainability.  I don't get paid for my designing work in dollars, but in merits….I love the merits.
Below are some of the samples of pendants I've designed. I've come out with over 60 designs already in the past few years. They are really taking off now. People love to be connected to the holy by wearing a blessed pendant on them. Now even Paul of kechara Discovery is coming with fabulous designs too.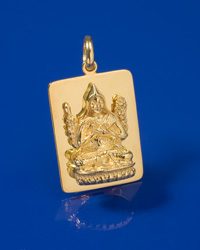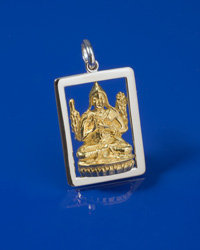 Solid gold Tsongkapa            Two tone white/yellow gold Tsongkapa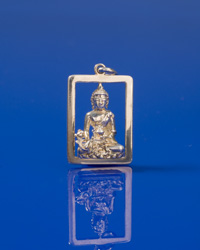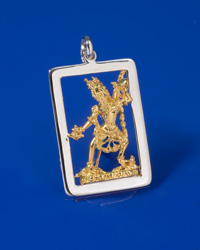 Silver Medicine Buddha          White/Yellow Gold Vajra Yogini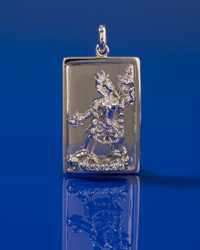 Silver Vajra Yogini                   White and yellow gold White Tara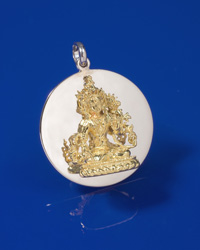 Gold plated White Tara on silver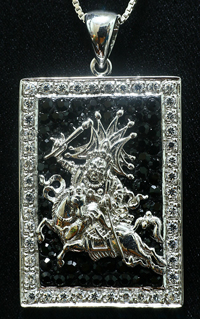 Beautiful pendant with exquisite detailing of the Great Protector Setrap. He is a general Protector of BuddhaDharma, Gaden Shartse Monastery, Kechara House. I have created many other styles that suit anyone. I will design much more pendants in future continuously! People should have modern, stylish holy Buddha pendants to wear to fit into all their lifestyles.  
  
 
 
A few years back to prove a dharma point, I did catwalk modelling for a season here in Kuala Lumpur. Now I've gone the way of Tom Ford, I don't model and I design now…hehehehh…
The latest creation are T-shirts…………………..I've been doing T-shirts all these years..and will do more.
Heheehe. My latest T-shirt collection that I have unveiled today in Tsem Ladrang (my home). I am going to make these available to the public soon!! Yes, Yes, Yes, Donatella, Lagerfeld, LV get in line to see me!!! Heheheehe
Tsem Rinpoche
P.S. The gorgeous, slim, tall, Tibetan model wearing this is meeeeeeeeeeeeee!
Please support us so that we can continue to bring you more Dharma:
If you are in the United States, please note that your offerings and contributions are tax deductible. ~ the tsemrinpoche.com blog team