I visited the holy Jokhang Temple, Lhasa 2008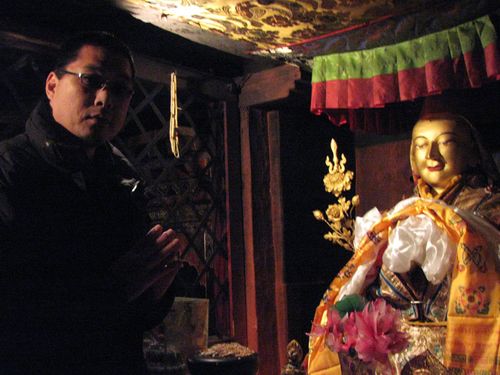 This sacred statue is of the King of The Three Worlds, Manjunatha Tsongkapa is in the sacred Jokhang Temple or Central Cathedral in Lhasa. I was told that this image is very old and said to resemble the real Tsongkapa Himself. I was like wow!!
I climbed myself inside to take pictures with Tsongkapa together. I waived off the "you cannot take pics in here" from the tour guide and just snapped away the camera…hehe..anyway, this is totally sacred and it was VERY EXCITING to have audience with Tsongkapa. I want to share this with everyone.
Tsem Rinpoche
Please support us so that we can continue to bring you more Dharma:
If you are in the United States, please note that your offerings and contributions are tax deductible. ~ the tsemrinpoche.com blog team